Saltillo tiles are popular for patios and kitchens but require good Saltillo tile sealers to maintain their beauty. An interesting fact about these tiles is that they are handmade and produced the same way they were 100 years ago. Because they are made of clay, they are porous and require the best Saltillo tile sealers to retain their unique look.
Some Saltillo tiles may be pre-sealed; however, companies rarely use high-quality sealers. Hence, sealing such tiles is necessary if you do not want to replace them often.
If you have chosen to make a Saltillo tile installation and need more information on what sealers to use to keep them looking fresh, this is the place to come. Here you will find a quick guide to get you started with Saltillo tile sealers, what to consider before choosing one, a list of the best Saltillo tile sealers reviewed, and more. Read on for all the details!
Best Sealers for Saltillo Tile Reviewed
Sealers for Saltillo tile come in many sizes, and some are even big enough to cover the entire floor. While this may sound like a great option, it is important to carefully consider what you are looking for in a sealer before committing to one because not all sealers offer the same level of protection or aesthetics. Below are three of the best sealers for Saltillo tile that we recommend: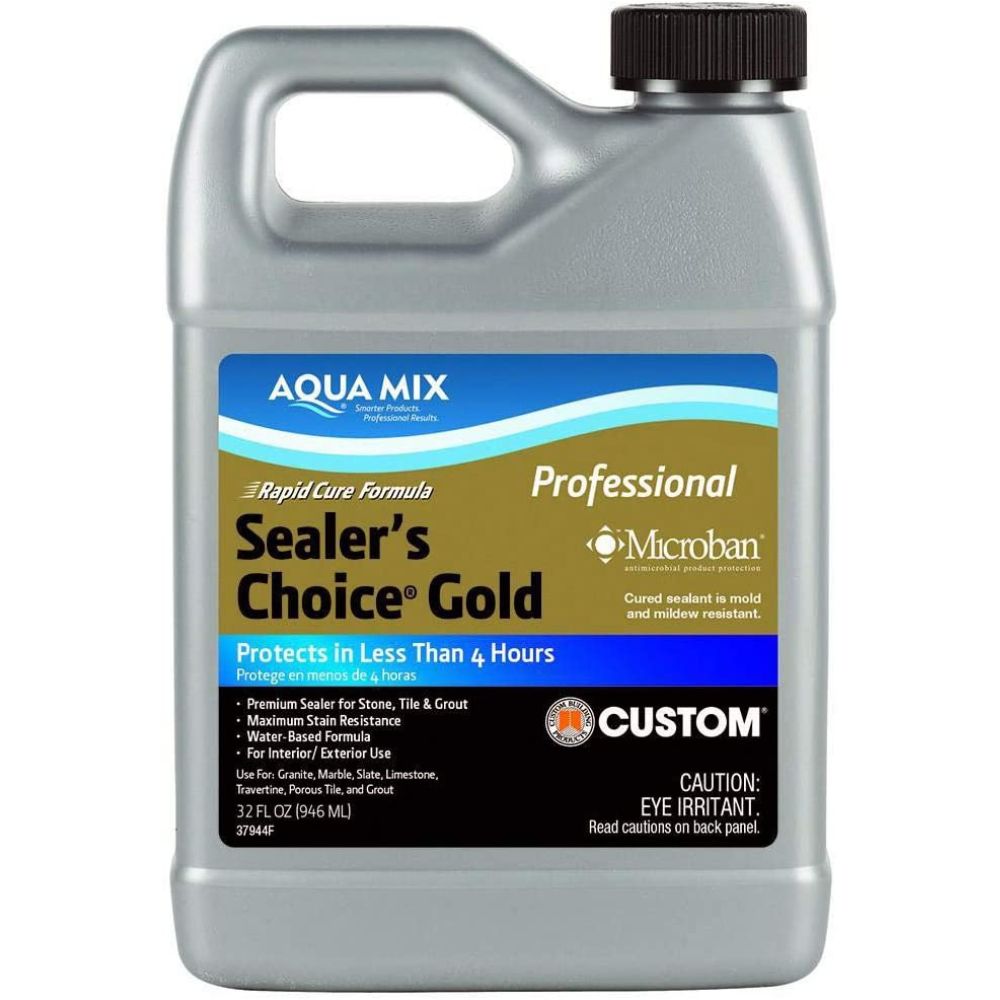 After testing numerous options on different Saltillo tiles, I am certain that the best sealer for Saltillo tile is none other than the Aqua Mix Sealer's Choice Gold Quart. It has everything you could want from a sealer, starting from protection to ease of use.
Firstly, it is a water-based sealant. Many people think that solvent-based sealers are the best due to their highly-penetrative nature; however, water-based sealers are a much safer option. And worry not; the water-based formula will not affect the sealer's effectiveness. In fact, this Aqua Mix sealer will offer you maximum protection. Once you apply the layers you need, it will safeguard your tiles from any water damage, as it is waterproof and will not let the water penetrate the Saltillo tiles. Water damage aside, after coating your tiles with this magic liquid, they will not stain.
No matter how many coatings you put on your tiles, the Aqua Mix sealer will not change your tiles' natural look; it only boosts it. And what is even better about this sealant is that it will last you for a long time, so you can relax for a couple of years before the thought of sealer reapplication crosses your mind again. Frankly, the only thing that could make this sealer even better would be if it cost less, as it is fairly expensive. Nevertheless, you surely get what you pay for with this one!
Product Specs
Water resistance: High
Size: 32 ounces
Color: Clear
Pros
Water-based formula
Natural look
Highly stain resistant
Lasts long
Cons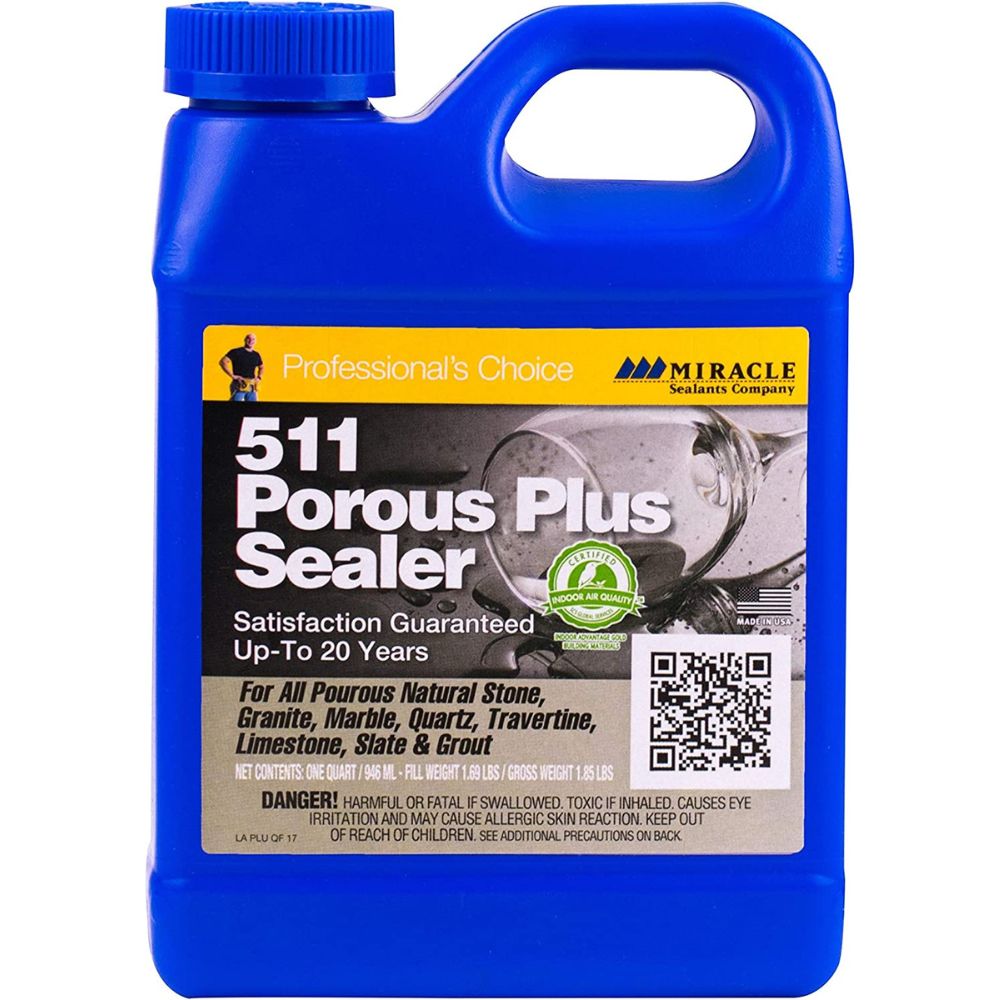 Sometimes there are so many good products that it is difficult to give the first spot to just one product. Such was the case with this list; hence, I need to give credit where it is due and say that the Miracle Sealants PLUS sealer is almost on par with the Aqua Mix sealer. The only aspect that made a difference between these two is that the Miracle Sealants one releases heavy odor and fumes during application, and that can be very unpleasant as it takes some time to go away after being applied.
This minor setback aside, if you can afford to deal with the smell for a while, you will be blown away by this sealer. It is both water and oil resistant; thus, you can be sure it will steer clear of any stains. Despite its fumes, the sealer is actually quite easy to apply.
While testing out Miracle Sealants PLUS, we noticed that the tiles do not suffer discoloration, which is a big plus in my book, as many low-quality sealers will damage Saltillo tiles' natural color. Lastly, for fans of glossy finishes, you will be delighted to hear that this sealant will give you that perfect, long-desired shiny look.
Product Specs
Water resistance: High
Size: Quart
Color: Clear
Pros
Water and oil resistant
Easy to apply
Will not suffer from discoloration
Glossy finish
Cons
Releases odor and fumes during application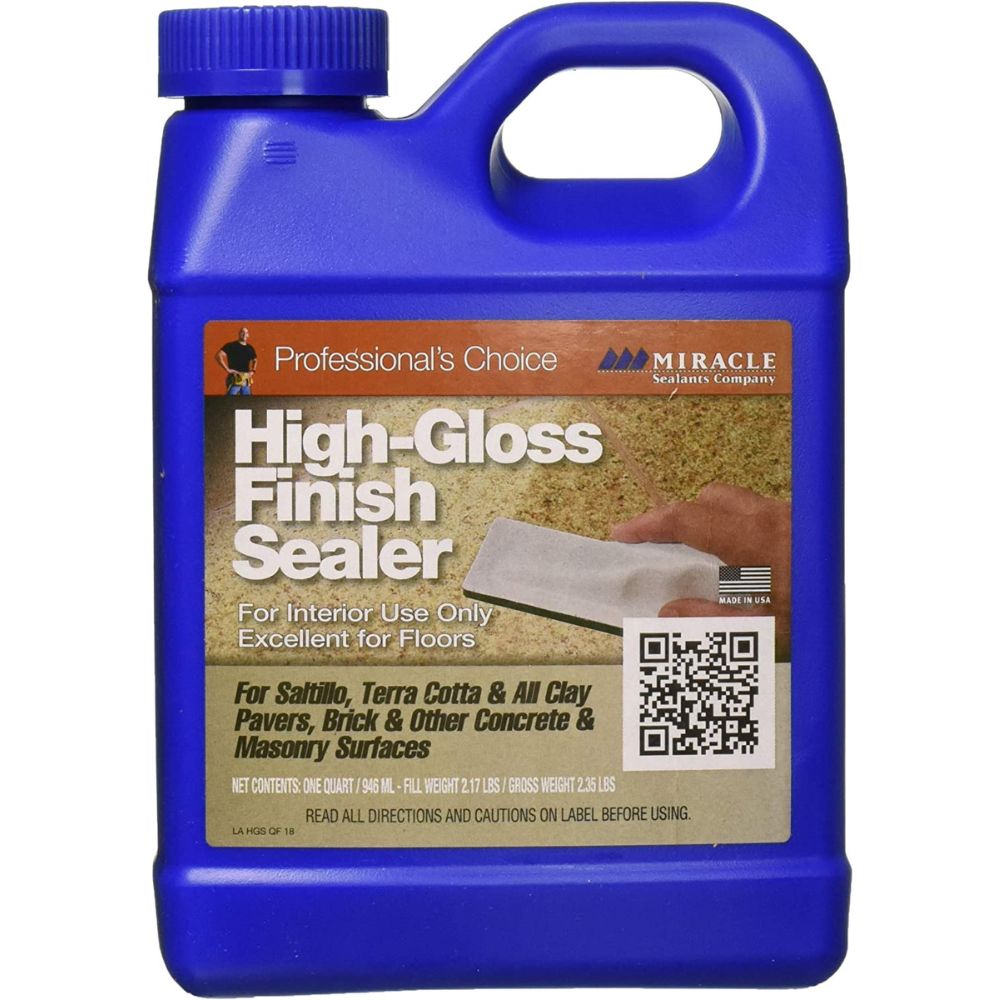 And here we have another Miracle Sealants product that is less costly but still good. It has many characteristics that set it apart from its competitors, but I must mention how it enhances the Saltillo tiles' natural look. Saltillo tiles are famous for their natural colors; hence, we all want to make them pop. This sealer does exactly that — it intensifies their stunning look and makes the colors look even more radiant. On top of that, this Miracle Sealant will also add the glossy finish that really suits such tiles. And what's even better is that the gloss will not yellow, which is the case with many other sealers I have tried.
That aside, unlike its co-product above, it has an odorless formula. You will not need to deal with heavy fumes and will still get a similar result. Lastly, the sealer works wonders against stains. I was initially skeptical, considering the price, but I am happy it does not let the tiles get stained.
The downside of using the Miracle Sealants HGFS6QT High Gloss Finish Sealer is that it is suitable for indoor use only.
Product Specs
Water resistance: High
Size: Quart
Color: Clear
Pros
Enhances tile's natural color
Odorless formula
High gloss finish
Stain resistant
Cons
Suitable for indoor use only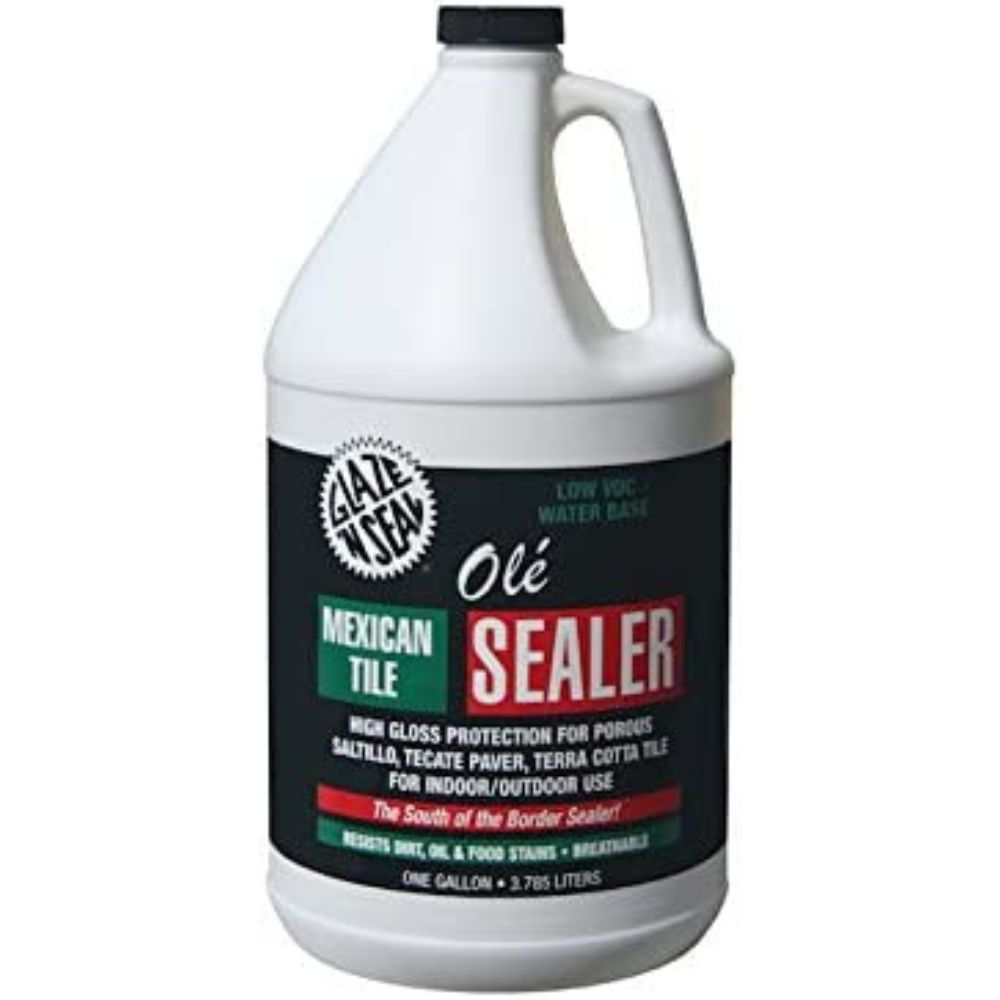 You cannot use the Miracle Sealer High Gloss Finish outdoors, but you can definitely use Glaze 'N Seal 163 Clear Olé Mexican Tile Sealer for that! This is another water-based formula sealer that will not fall short of helping you achieve a glossy look for your outdoor Saltillo tiles. This is the best sealer for outdoor Saltillo tile due to its high durability.
Normally, outdoor areas have high foot traffic; therefore, tiles get damaged quickly. This is why you need a durable sealer to protect your Saltillo tiles in such places, and the Glaze 'N Seal Olé Mexican sealer excels at that.This sealant is also amazing at repelling water, oil, and stains from your tiles. We tested it for a long time, and there was no water damage to the tiles, and they did not stain from oil or residue of any kind.
I could not think of any cons that this product might have other than to advise you to be careful during its application, as it can cause serious skin irritation if it touches your skin.
Product Specs
Water resistance: High
Size: 128 ounces
Color: Clear
Pros
Water based
Great for outdoors area because of its durability
Protects from oil, water, grease
High gloss
Cons
Causes skin irritation if used bare-handed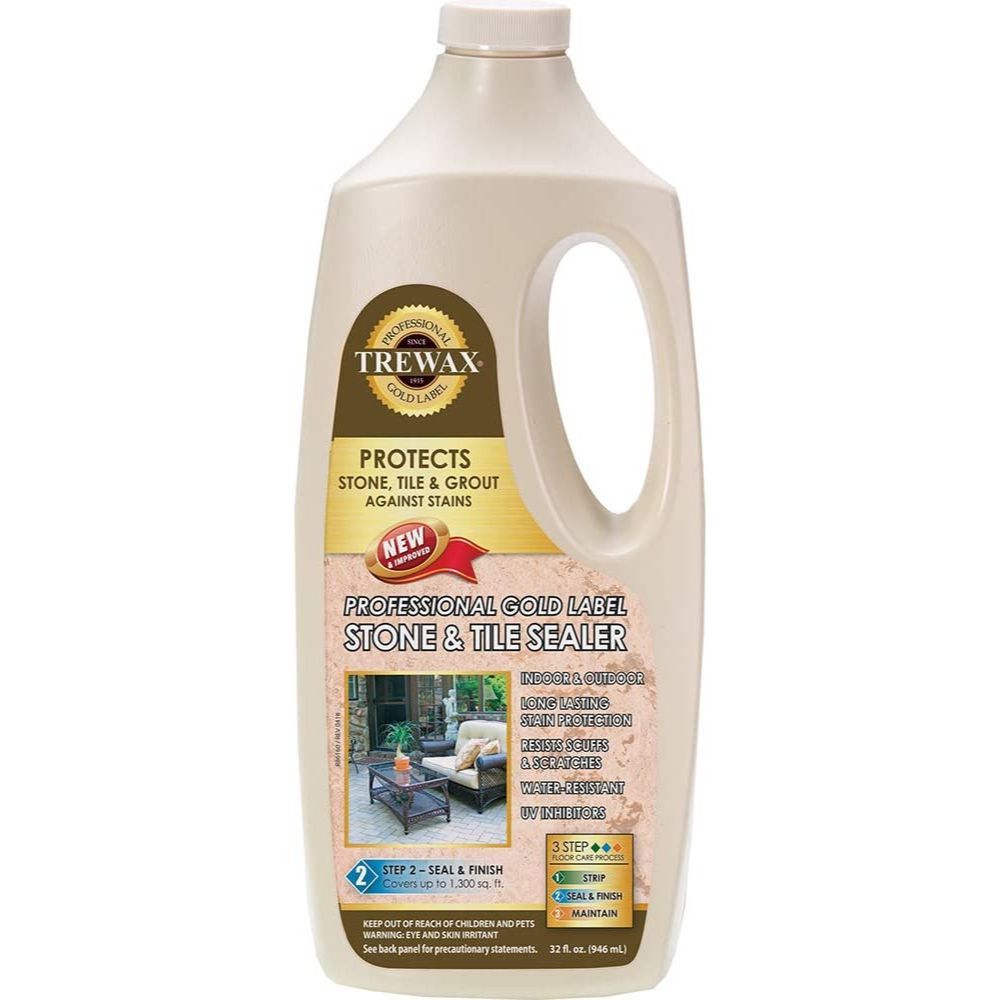 The sealers mentioned above may give you a nice, glossy finish, but if you want a sealer that specializes in that area, look no further than the Trewax Professional Gold Label Stone and Tile Sealer.
The sealer is just as easy to maintain as it is to apply. It is a low-odor sealer that does not take long to dry, which saves you plenty of time during the process, as you need to apply a few coatings to ensure maximum protection. If you apply it properly and coat the area more than once for better results, you can be sure that it will be durable enough to withstand high foot traffic or scratches and other external damage. Unlike actual wax, this sealer will not get sticky.
And most importantly, once you are done applying the sealer and it has dried off, you will notice that your floors or walls will sparkle with shine from the added glossy finish.
Product Specs
Water resistance: High
Size: 32 ounces
Color: Clear
Pros
High gloss finish
Easy to maintain
Durable
Does not get sticky like wax
Cons
Needs a couple of coatings for best results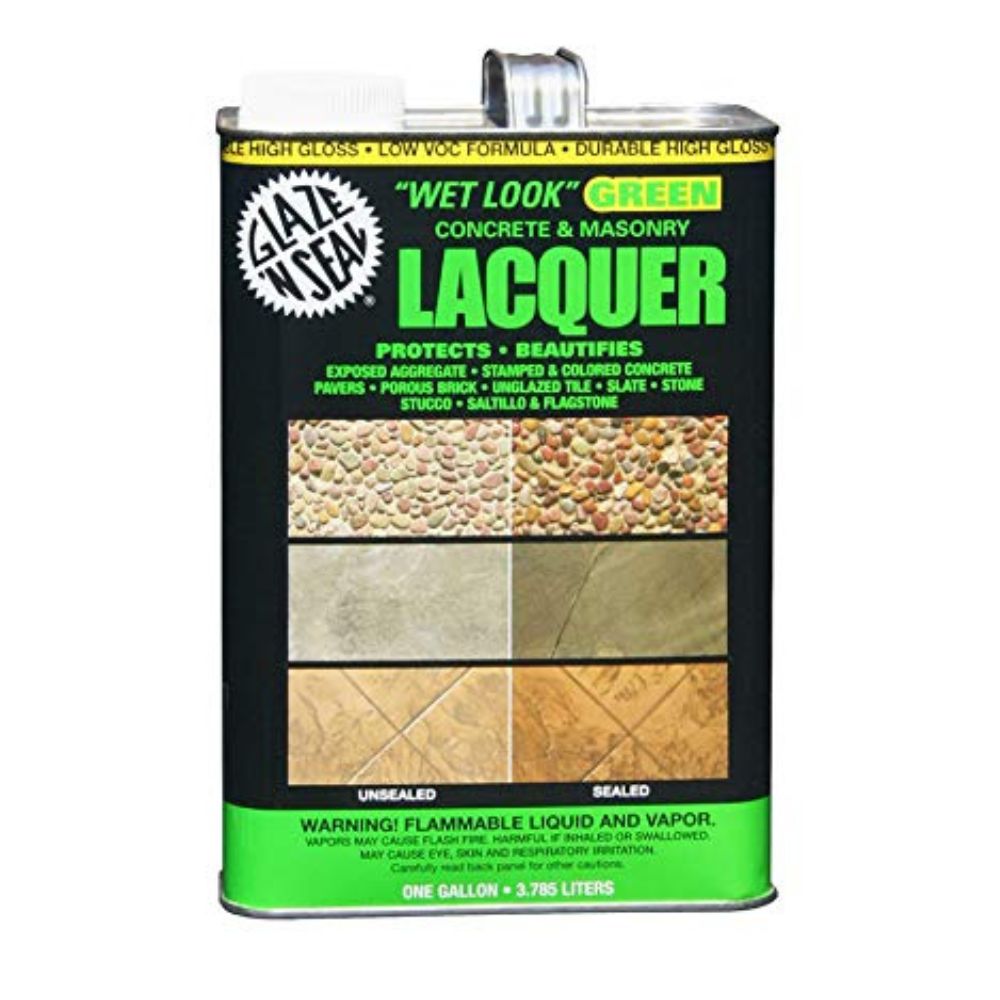 We have selected the best Glaze 'N Seal Wet Look Green Lacquer Sealer for die-hard, oil-based sealer fans. This Glaze 'N Seal sealer has a deep penetrating formula to ensure that your tiles are well-protected from any external and internal damage they may take. Hence, your tiles will be protected from water, oil, stains, scratches, cracks, and the like.
I have some bad experiences with sealers peeling off after a couple of months, and if you have been sealing your tiles regularly, you may have experienced this too. Worry not, for the Green Lacquer sealer will not let you down on this compartment! I have tested this sealer more than once and am confident it will not peel off. Moreover, the sealer is suitable for both indoor and outdoor areas.
The product is on the expensive side, but I recommend it if you worry about your tiles being well-protected, as it will offer you all the protection you need to quiet your anxiety.
Product Specs
Water resistance: High
Size: 1 gallon
Color: Green
Pros
Deep penetrating formula
Does not peel
Suitable for both indoor and outdoor
Cons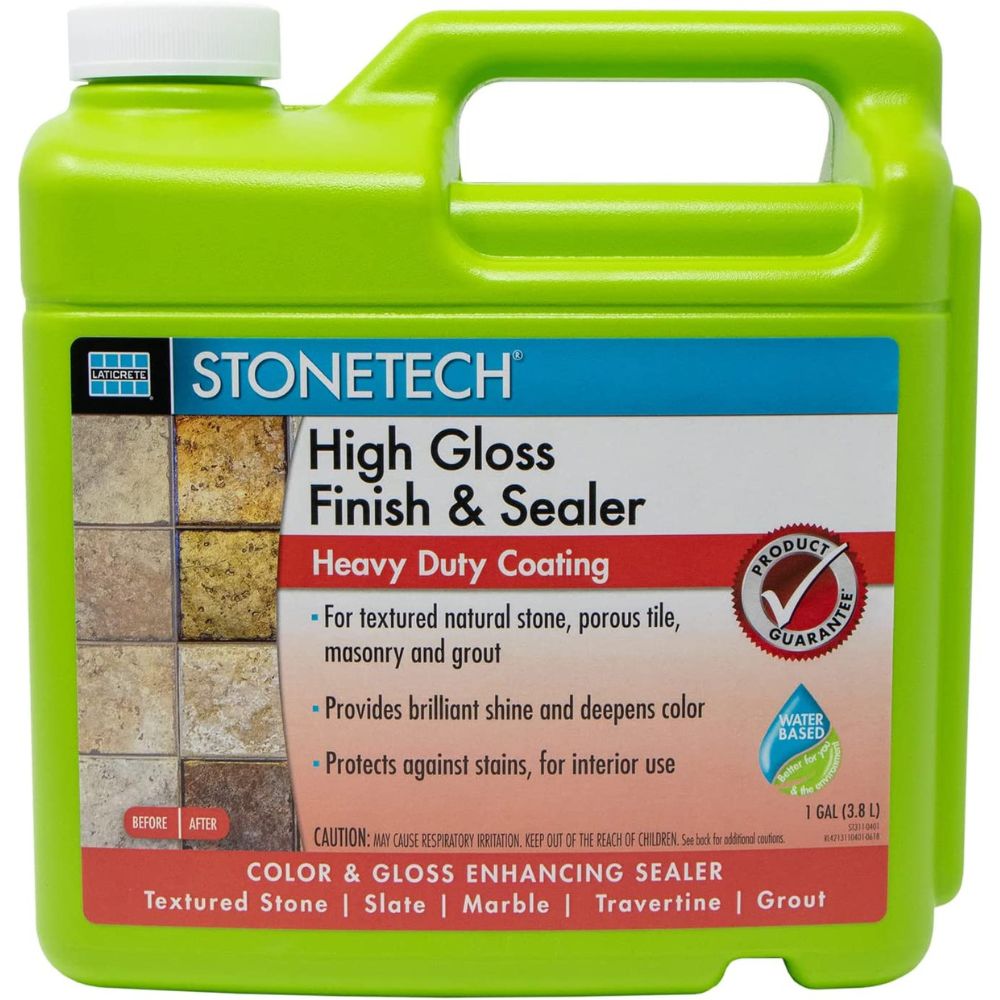 Another product you may want to consider is the STONETECH High Gloss Finish & Sealer. Although it does its job as a sealer fairly well, I do not think it is as "high gloss" as it claims to be. Despite this minor inconvenience, it performs great as a sealer: it retains and amplifies the tiles' natural look, which is a big plus in my book. Once applied, it will not have a foul odor like most other sealers, but instead, it has a quite pleasant fragrance.
This sealer has a water-based formula that is extremely safe for your Saltillo tiles and the environment as well. And most importantly, it will protect them from stains and water damage.
Overall, it is a great sealer if you do not care about having a glossy finish, as it meets all the other criteria a good sealer must have.
Product Specs
Water resistance: High
Size: 1 gallon
Color: Clear
Pros
Pleasant fragrance
Water-based formula
Restores natural look
Protects from stains
Cons
What to Consider When Choosing the Best Saltillo Tile Sealers
To find the best Saltillo tile sealers, you need to know what to look for in those sealer shelves in shops or when you order online. Generally, there are four aspects you should remember before making your choice: water resistance, longevity, ease of use of the sealer, and size of the area you want to seal.
Water Resistance
One of the telltale signs that Saltillo tiles need sealing is their high porosity. Higher porosity leads to higher water absorption rates, and when water is absorbed into the tiles, they can be severely damaged. And I am not talking about a little decoloration or some stains. Although, I would argue that these are very real issues, too, if you care about the look of your tile installations.
What I am most concerned with is that if too much water is absorbed within the tile, it will cause the tile to swell up and slowly but surely start to deform and crack. And cracks are not something easily fixable; in fact, depending on how much damage the tile(s) have taken, you may need to replace them. Sealing your Saltillo tiles will make them nearly immune to such issues, especially if properly sealed. And in the long run, it will prevent damage and help you avoid any extra costs that replacing the tiles might cause.
But to ensure that the tiles will be waterproof, you must carefully check if the sealer you use is waterproof. You should only purchase products that specify they are waterproof; otherwise, the sealer will provide little to no protection from water damage.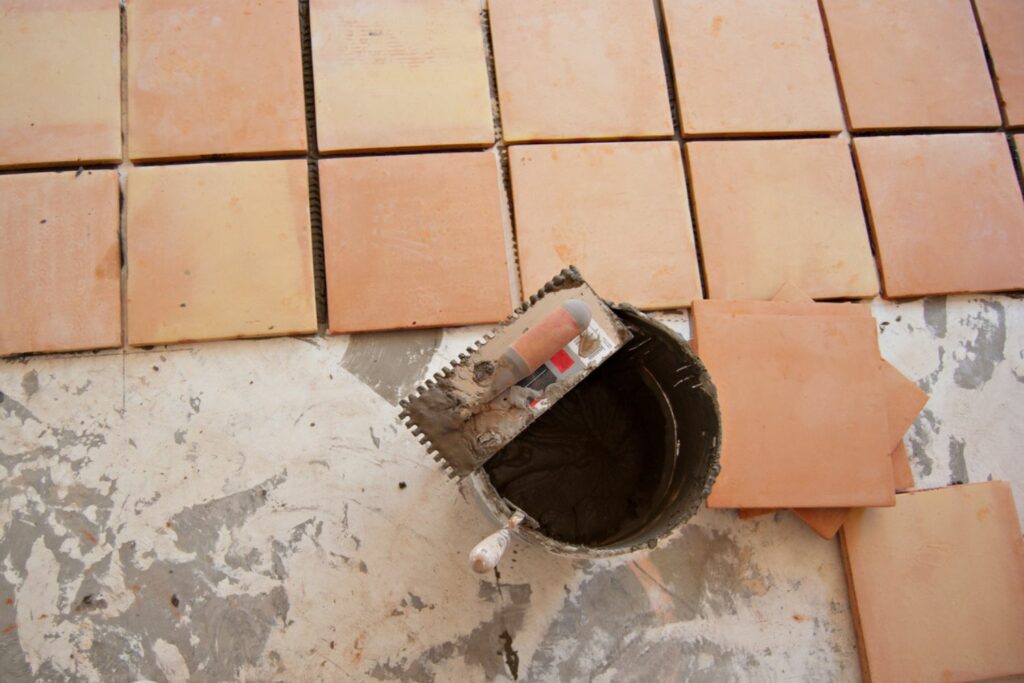 Longevity
An aspect you should consider before determining that your pick will be the best sealer for Saltillo tiles is its longevity. Good things do not last forever, and neither do sealers. Even if you have the best Saltillo tile sealers, you will need to seal the tiles again after a year or more, depending on their longevity.
However, if you do not choose your sealer carefully, you may end up buying a product that will barely last you for a couple of months before its magic wears off and the tiles start taking up damage. Not all sealers have the same lifespan; some will last longer than others. And your sealer should fall under the category of the ones that last longer unless you want to spend some more money and waste more time re-applying sealant every half a year.
Jokes aside, a good, long-lasting sealer is a must to provide safety to your tiles and spare you the resources and time of reapplication.
Ease of Use
I would not call ease of use the most important factor, but it is one that I sometimes use to determine whether to choose one sealer or the other. If you want to seal the tiles yourself, you should be prepared for the long process and the hours required to perfectly seal your tiles. Although some of you might find it fun, I should admit that it can be tiring. And obviously, we would like to minimize the time it will take us to apply the sealant.
Finding a sealer that is easy to apply can be a lifesaver. Some sealers may require you to apply them slowly and carefully. They might also require additional tools to be spread evenly and appropriately. Finding one that can be applied more easily may sound like a chore, but believe me, the effort will be worth it once your tile-sealing hours are cut in half.
Size
Saltillo tiles come in different shapes and sizes, and so do tile installations. Some rooms can be less spacious than others, affecting your choice of the sealer you would like to purchase.
Many brands offer sealers in various sizes, and the bigger the sealant's bottle, the more expensive it gets. It would be a bad investment and a waste of money to buy a large sealer bottle if you apply it to a small area. Instead, you can buy a smaller bottle that fits your needs.
On the contrary, if you have to seal a large area and buy a small bottle, you will cover only a part of the installation. A lack of sealant at this moment may result in a careless and improper sealing of the tiles, especially since you will be forced to stop the sealing until you buy a new bottle.
To avoid such issues, measure the area and buy enough sealant to get the job done in one go (unless the area is way too large to be covered in a day).
How We Choose the Best Sealer for Saltillo Tile
To choose the best Saltillo tile sealers, we follow strict guidelines that adhere to the aspects we want you to remember before choosing the sealer. First and foremost, we proceed with extra caution regarding water resistance. We are well aware of how delicate Saltillo tiles can be and how prone to cracking they are when absorbing too much water. Hence, our main concern when testing the products was whether the sealers would be water-resistant.
Our second most important evaluation criterion was, without a doubt, longevity. We know that many products are of low quality and do not last long; hence, we made it our job to find sealers that last a while. Some afterthoughts in our review were how easy the sealers were to use and, of course, including sealers of different sizes to cater to different readers' needs.
Last but not least, it is important to note that all products have been tested for enough time to determine their quality and if they were worthy of making the cut.
Our Verdict
Our choice for the best products to seal your pretty Saltillo tiles with are the amazing Aqua Mix Sealer's Choice Gold Quart and Miracle Sealants PLUS. These two were head-to-head fighting for the first place due to how well they worked on Saltillo tiles. It was a close one, but our favorite between the two is the Aqua Mix sealer. It has a safe, water-based formula to ensure that it does not harm or discolor your tiles, all while you savor the natural look of your tiles, as the sealant does not change it. This sealer protects against stains and prevents water from penetrating the tiles. Although expensive, you can rest assured that it is worth your money, as it is as good as it is long-lasting.
The Miracle Sealants PLUS is water and oil resistant and will not cause your tiles to lose their color either. I love how easy it is to apply and how it gives the tiles a shiny, glossy finish by the time it dries out.
Both are excellent options, and I would use the two on Saltillo tiles again without thinking twice!
How to Seal Saltillo Tile
After all the information on and reviews on the best Saltillo tile sealers and (hopefully) coming to a decision on which one to buy, you must be in need of a guide on how to seal Saltillo tile. It sounds harder than it actually is; you do need to be careful and apply the sealer properly, but other than that, you can do it even if you have yet to gain experience in the art of sealer application.
I have sectioned the process into steps to make it easier for you to follow:
Whether the tiles are newly-installed or not, you must clean Saltillo tiles thoroughly so that no grout, debris, or any other impurity gets stuck in the sealer. 
Pour the right amount of sealer you need onto a bucket or tool of choice (sponge, paint roller, etc.). Do not pour it directly on the Saltillo tiles.
Apply the sealer evenly in one direction. Try to apply it to one tile at a time for better results.
Finish applying the first coating to all tiles.
Let the first sealant layer dry for an hour or two.
Apply a second coating by following the steps above.
Let the second coat dry before repeating the process for a third and last layer (unless you deem it necessary to apply another one).
Applying so many coatings may seem like a hassle, but Saltillo tiles require these layers of extra protection to remain shiny and beautiful!
FAQs
After learning about the best sealers on the market and how to apply them, you might still have some questions. Do not worry, as I will answer the most frequently asked questions below:
Q: How often should you seal Saltillo tile?
Saltillo tile is a very durable and popular flooring option, however it does require periodic sealing to help protect its unique beauty. The frequency of the sealant application will depend on the amount of traffic and wear your tile receives. Generally speaking, for floors that receive low to medium foot traffic you should reseal your Saltillo tiles every two to five years.
For higher foot traffic areas such as entryways or halls, you'll need to reseal more frequently—every one to two years. Sealing includes cleaning the tiles first with either a mild cleanser or mineral spirits for dirtier surfaces, followed by an application of a quality sealer using either a brush or roller applicator until all surfaces are covered uniformly.
Q: What sealer do you use on Saltillo tile?
The most popular and effective sealers for Saltillo tiles are those that contain acrylic sealers with silicone technology. These sealers penetrate deep into the surface of the tile and form an invisible barrier that protects against water damage, staining, oil-based spills, dirt accumulation, and more. They also improve slip resistance by reducing slickness caused by dirt buildup on top of an unsealed Saltillo flooring surface.
These types of acrylic silicone-based sealers require only one application to provide years' worth of reliable protection for your Saltillo tile surfaces; however if you want increased protection from heavy traffic areas such as entryways or kitchen countertops then you may need to consider applying additional layers – usually two coats – every few years.
Q: How do you waterproof Saltillo tile?
To ensure that your Saltillo tile is water-resistant and protected from any liquid damage, you should seal it with a waterproof sealer. These sealers will form an invisible barrier on the surface of the tile, preventing liquids from seeping into its pores. You can apply most types of waterproof sealers using either a paint roller or brush applicator. Make sure to spread the sealer evenly and in one direction to get the most effective protection.
Let each layer dry for a minimum of two hours before applying the next coat. If you want extra protection from liquid damage, consider sealing your Saltillo tile with two or three layers of waterproof sealers every few years.
We are sorry that this post was not useful for you!
Let us improve this post!
Tell us how we can improve this post?